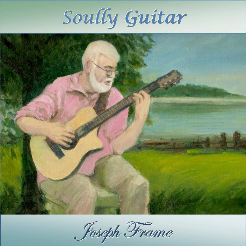 Reviews of Soully Guitar and Sea Miles by
Scott Yanow, jazz journalist/historian and author of 11 books including The Great Jazz Guitarists.
The Framework Trio
Sea Miles
Joe Frame is a veteran guitarist whose sophisticated chord voicings and melodic style are sometimes a bit reminiscent of Charlie Byrd and Gene Bertoncini, both of whom he studied with. While he often performs unaccompanied solos, Frame has also worked since the early 1990s with his own Framework combos. The new version of the Framework Trio that is featured on the Sea Miles EP teams the guitarist with bassist Ed Fleischman and drummer Pat Cuttitta
From the beginning of this set, it is obvious that the three members of the Framework Trio speak in one voice, forming a tight yet spontaneous trio. The trio starts off with "Troublant Bolero," a lesser-known Django Reinhardt song that has the feeling of flamenco. Between guitar statements that emphasize chords, Fleischman takes a brief but worthy bass solo.
Antonio Carlos Jobim's "Triste," as with the other performances by the group, always has the melody close by. Bossa-nova is the perfect style of music for this acoustic trio and Cuttitta's drum breaks over a guitar/bass vamp adds some excitement to the latter part of the song. "Frame," the first of the guitarist's three originals, is a rhythmic piece that focuses on the attractive ensemble sound of the group.
"Moonlight In Vermont," a major hit for guitarist Johnny Smith in the early 1950s, is taken by Joe Frame in a similar melodic chordal style. The trio swings well together, particularly when they double the tempo. "Brigid's Bounce" is an original bossa-nova that includes some more beautiful chordal guitar along with a spirited tradeoff by Fleischman and Cuttitta. In a change-of-pace, the trio displays their versatility by ending their all-too-brief set with "The Blue Byrd Blues," a lowdown shuffle blues.
Sea Miles is an excellent outing by Joe Frame and his trio that is quite enjoyable.